04.24.18
Democrat Obstruction Continues
President Trump's Nominees Have Faced 88 Cloture Votes In First 2 Years Vs. 24 For Previous 6 Presidents
Combined

In Their First 2

SEN. JOHN THUNE (R-SD): "[T]his really is a new low here in the Senate in terms of nominees." (Sen. Thune, Press Conference, 4/24/2018)

SEN. JOHN BARRASSO (R-WY): "It is only partisan politics from the Democrats that are slowing down this entire process to try and prevent President Trump from putting his team together to lead the nation." (Sen. Barrasso, Press Conference, 4/24/2018)

SEN. CORY GARDNER (R-CO): "It's clear that the entire agenda of the minority is procedural sabotage. A procedural sabotage to stop every nominee, drag them out as long as they can to obstruct at historic and unprecedented levels." (Sen. Gardner, Press Conference, 4/24/2018)

Number of cloture votes taken in the Senate on judicial and executive nominations in the first two years of a president's term: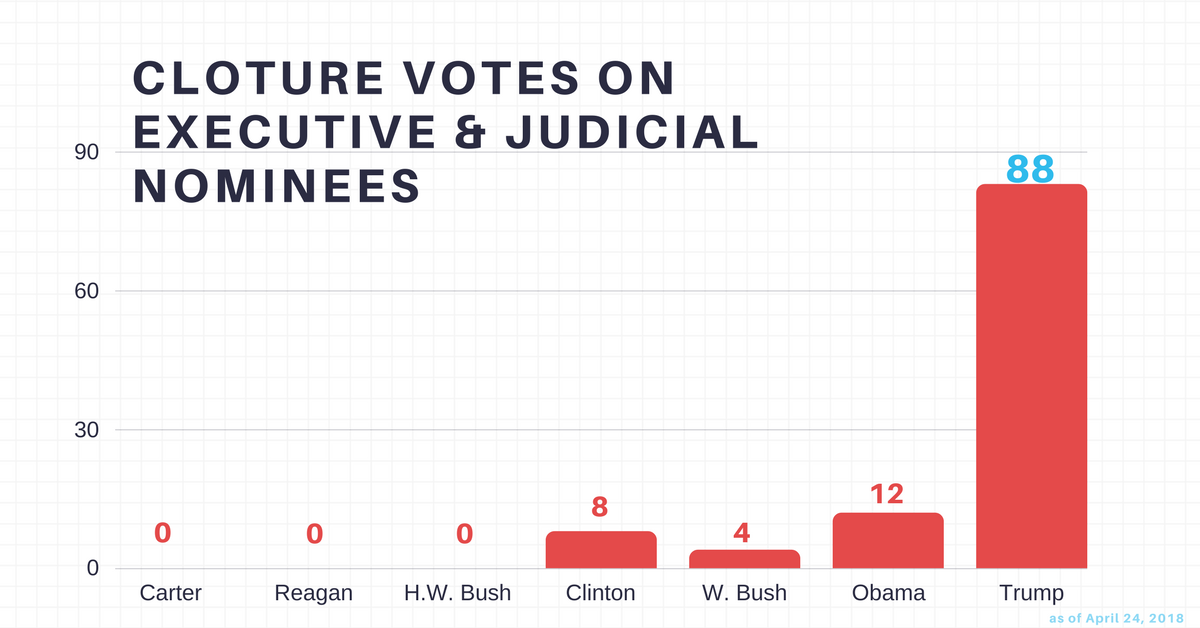 Notes:
Includes judicial nominees and failed cloture votes. Excludes cloture motions waived or vitiated.
Trump: Through April 24, 2018; includes 2 cloture votes on the nomination of Justice Gorsuch.
Clinton: Includes a cloture vote on 5 nominees at once (all of whom were subsequently confirmed by voice vote) and 2 failed cloture votes on the nomination of Sam Brown.
("Cloture Motions," U.S. Senate Website, Accessed 4/24/2018)
2017 FLASHBACK: Democrats Slowed Cabinet Confirmations 'To A Historic Degree'
"Senate Democrats … are slow-walking the installation of Trump's Cabinet to a historic degree…" (Politico, 2/5/2017)
"Trump's wait for his major Cabinet picks was nearly the longest in 30 years… The Senate confirmed the last of President Trump's nominees to lead major Cabinet departments on Thursday… Of the five most recent administrations, only Obama has taken longer to fill out his Cabinet, though Trump was only one day shy of tying that mark." (The Washington Post, 4/27/2017)
###
SENATE REPUBLICAN COMMUNICATIONS CENTER
---
---
Next
Previous