04.13.18
Historic Democrat Obstruction
President Trump's Nominees Have Faced 86 Cloture Votes In First 2 Years Vs. 24 For Previous 6 Presidents Combined
SENATE MAJORITY LEADER MITCH McCONNELL (R-KY): "Over and over again, we've had to file cloture and exhaust floor time on amply-qualified nominees who then soar through their confirmation votes by lopsided margins…. The numbers speak for themselves." (Sen. McConnell, Remarks, 4/11/2018)
WALL STREET JOURNAL: "Democratic obstruction against nominees is nearly total, most notably including a demand for cloture filings … no matter how minor the position." (Editorial, "Running The Schumer Blockade," The Wall Street Journal, 7/10/2017)
Number of cloture votes taken in the Senate on judicial and executive nominations in the first two years of a president's term: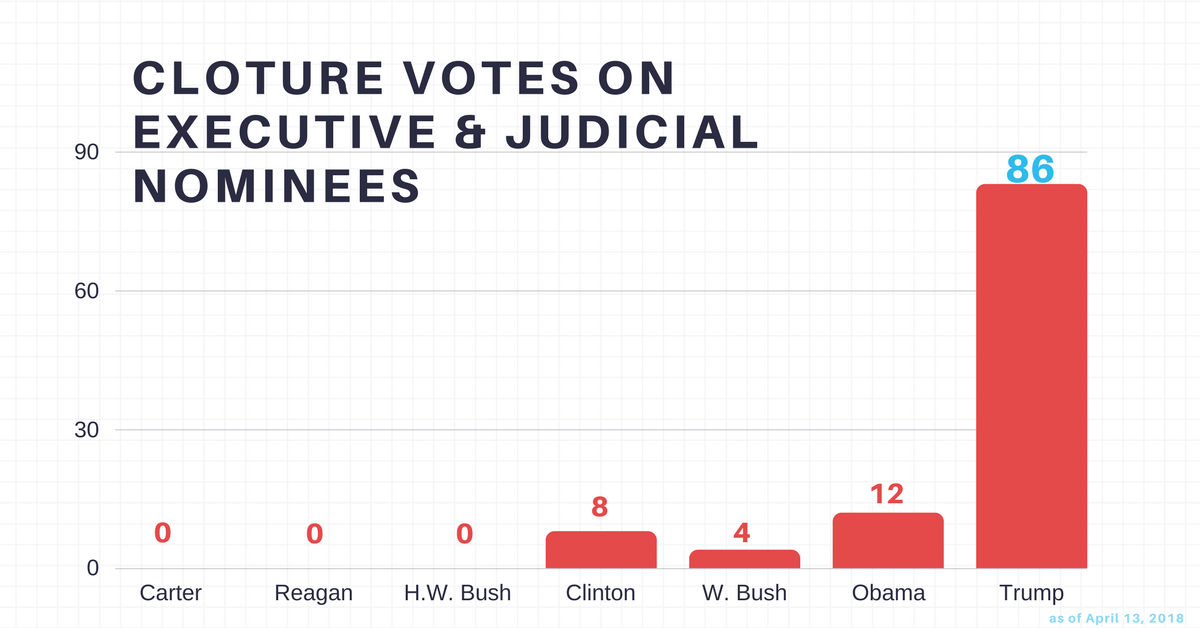 ("Cloture Motions," U.S. Senate Website, Accessed 4/13/2018)
Notes: Includes judicial nominees and failed cloture votes. Excludes cloture motions waived or vitiated.
Trump: Through April 13, 2018; includes 2 cloture votes on the nomination of Justice Gorsuch.
Clinton: Includes a cloture vote on 5 nominees at once (all of whom were subsequently confirmed by voice vote) and 2 failed cloture votes on the nomination of Sam Brown.
###
SENATE REPUBLICAN COMMUNICATIONS CENTER
---
---
Next
Previous